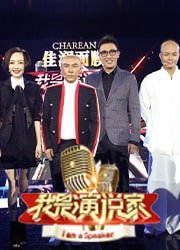 I Am Speaker
Length: 60'
Season 1: 19 Episodes
Season 2: 19 Episodes
Type: Talent Show/Competition/Reality Television/Knowledge
Year: 2014-Now
The large-scale verbal competition charity show "I Am Speaker Season 5" is coming back. Continuing the last 4 seasons' popularity with an overall upgrade, "I Am Speaker" is going to touch your heart by its strongest power of words and touching stories. With the increasing anticipation from the audience, the concept poster has been exposed, and the list of judges has been made public. Lu-Yu, Li-Bo and Lei Wang will lead each team to make greater breakthrough. Let's salute the revolutionary generation and listen to the voice of new times in the war of words and stories.
Catalogue updated by 13 Apr., 2021. Still have lots of premium content.Welcome to contact us via +886-2-3765-2310