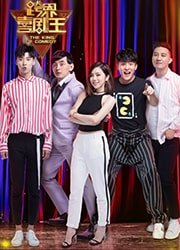 The King of Comedy
Length: 100'
Season 1: 12 Episodes
Season 2: 12 Episodes
Season 3: 12 Episodes
Type: Competition
Year: 2016-2018
This is the first original crossover comedy competition TV show ever been made in China. The show will gather the representative individuals from different fields, having them perform in a humorous way that's different from their original fields. Hosts (S1): Xiao-Xi Liu, Yang Tsao. Guests: Lan Qin, Yu-Qing Fei, Nan Sun, Ya-Ping Deng, Jie Zhou, Yue-Jia, Yu-Gang Li, Zhi-Gang Yang. Hosts (S2): Zi-Jiao Huang, Yang Tsao, Chen Yang. Guests: Zi-Qi Deng, Yi-Zhou Deng, Bo-Wen Wang, Zong-Wei Yang, Lan Ke, Shu-Lin Yang, Yuan Xie, Tian Liang. Hosts (S3): Hui Ouyang, Yang Tsao. Guests: Chen-Guang Chang, Bao-Liang Sha, Yi-Tian Hai, Meng Chang, Nian Li, Zheng Tsao.
Catalogue updated by 13 Apr., 2021. Still have lots of premium content.Welcome to contact us via +886-2-3765-2310