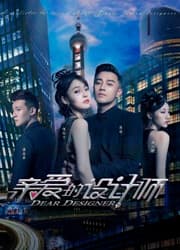 Dear Designer
Duration:45'X38eps
Genre:Modern/Romance/Business
Cast:Zhang Jia Ning/Chiang Yi/Zhao Wen Xuan/Saifei He/ChengGuanSen/Jeung Fong Ting
Year:2020
Designer Shen Tiantian led a troubled life prior to being adopted by the fashion guru and CEO of the Li Group, Li Manli, who's determined to take her company to the world stage. With Manli's support, Tiantian is able to study design then land her first position at the Li Group as a ghost designer to Tang Guo'er, Manli's biological daughter. While working together the girls become close friends. Manli arranges a date for Guo'er with Zha Mingyuan, the Zhao Group's successor, realizing that an alliance would potentially be beneficial to her company. Unbeknownst to her, Guo'er has already fallen for the man of her dreams! A panicked Guo'er begs Tiantian to go on the date in her place. Tiantian and Minguyuan start to develop feelings for each other until Guo'er realizes that the man she pines for is also Minguyuan! A broken-hearted Tiantian, sacrifices both her position and Minguyuan, in order to fulfill Guo'er wish to plan her wedding, complete with a dowry that includes the label ""Guo'er"", which Tiantian herself designed! Jealous and unsatisfied, Guo'er sells off the label to eliminate all traces of Tiantian. A scandal erupts when news leaks out that Zha Mingyuan was adopted, leaving the Zhao Group without a legitimate successor, and forcing Mingyuan to resign. Subsequently, he seeks out and teams up with Tiantian to launch the new fashion label, Made in China. Meanwhile, the Li Group is falling apart and Guo'er blames all her misfortune squarely on Tiantian. Now rivals in the cutthroat fashion business, whose label will survive to become the darling of the haute-couture set?
Catalogue updated by 13 Apr., 2021. Still have lots of premium content.Welcome to contact us via +886-2-3765-2310