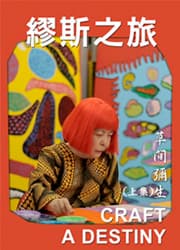 Craft A Destiny: Yayoi Kusama
Duration:30′ X2eps
Genre:Cultural Exploration/Biography/Art/Design & Creativity/Dance
Year:2016
Craft A Destiny""records women who have great achievement in art and fashion with the theme of "Self-transcendence, Breaking the geographical, Living beautifully, Life Journey. It's a documentary directed by Emmy Award winner Fan Lixin.
Yayoi Kusama, a contemporary artist and writer from Japan, is known as ""Polka Dot Master"".
Catalogue updated by 13 Apr., 2021. Still have lots of premium content.Welcome to contact us via +886-2-3765-2310