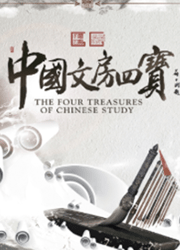 The Four Treasures of Chineses Study
Duration:50'X6eps
Genre:Culture/History/Lifestyle
Year:2016
Brush, Inkstick, Paper, and Ink-slab, an embodiment of eastern ingenuity, a four-in-one stationery,a crystallization of the laborer's wisdom and outstanding craftsmanship are born with the Chinese way of writing and calligraphy. These four are known as the "Four Treasures of the Study".Collecting the essence of the living things, and pooling the brilliance of the general public, the Four Treasures of the Study were born and refined with the enrichment of human physical activities and the sublimation of human spiritual world. Passed through the hands of laborers, the process these treasures were made reflects the diligence, wisdom, creativity and colorful emotions of the Chinese people. Thanks to the invention of these great treasures, the Chinese have found a way to describe their lives, and the Chinese civilization has also grown into a kingdom that excels in thoughts, knowledge, culture and art.
Catalogue updated by 13 Apr., 2021. Still have lots of premium content.Welcome to contact us via +886-2-3765-2310